Switzerland has more graffiti than I've seen outside of the US. It completely contradicts my image of Switzerland as clean and orderly. In Zürich there's a long wall where graffiti seems to be allowed, probably in an attempt to redirect some of that tagging impulse.
But I guess it's not enough for some people.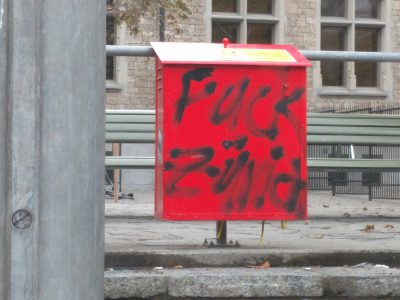 My German sucks*. I can read most of the signs and order things in stores, but my vocabulary far exceeds my grammar knowledge. I know words like Fußbodenschleifmaschine, but I fall all over myself trying to say that I'd like to check out of my hotel room.
And Swiss German is another creature entirely. I'm not sure how much I'd understand even if my Hochdeutsch were fluent. I think it would be like learning English and then taking a trip to northern Scotland. Some of the words would be familiar, but… Swiss German has a lilt that makes it sound Scandinavian. And they'll start words with ch, which I don't think standard German ever does. (I saw one sign that spelled Kinder as Chinder.) The standard greeting is Grüezi, which is sometimes pronounced as one would expect, but is often pronounced Grüße. And they roll their R's like Spaniards, especially in rural areas. I wish I had a recording of the way the train conductor in Lauterbrunnen pronounced Mürren. They also frequently use merci for thank you and ciao for goodbye.
I like currywurst better than döner kebabs.
Almost everyone in Switzerland speaks English. Most of them humored** me in my attempts to speak German, but English is always available when needed.
Zürich's Hauptbahnhof is one of the most trainstationy stations I've seen. It's big and cavernous and the trains come right into the middle of it. I'd say it's second only to Gare du Nord in its trainstationiness.
Tessalon*** does not seem to be OTC in Switzerland. In fact, you have to ask for ibuprofen, which is $11.00 for 20 tablets.
* No, autocorrect, I don't mean "dicks."
** No, not "humped."
*** Not "Thessaloniki"! Just stop!