Singapore is the most food-intensive place I have ever seen. More than San Francisco, more than Paris, more than Hong Kong, more than Fremont…more than just about anywhere. All cuisines and budgets seem to be represented. And there are a surprising number of tapas bars.
It's humid, but not as humid as I was expecting. It's been mostly around 80%, which is not as bad as Ohio in August. Of course, the humidity goes up during thunderstorms.
Most restrooms don't have paper towels. What they usually have instead is a big roll of toilet paper near the sinks. Have you ever tried to dry your hands on toilet paper?
Napkins are also nonexistent. Tissues are sometimes available to purchase. I mostly just used my pants.
Cousin Mosquito is still around.

There are four official languages — English, Mandarin, Malay, and Tamil — but English is officialer than the others. A lot of signs have multiple languages, but if a single language is used, it's always English. Even in the multi-lingual sign below, the words "notice" and "SBS Transit" are only in English.
Oh, yeah, man. Free Flow Kimchi is awesome. I saw them open for Toad the Wet Sprocket.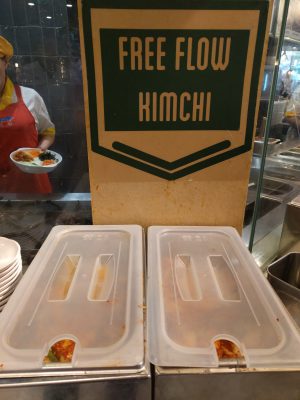 Photos are available on Flickr.