We sorted out our earlier confusion over the various French villages with their various ruins. Lobo was conflating two of them, I was conflating one of those with one other, and Alcalde was basically indifferent. Al, who was invited to come with us over and over again, was a no-show, and probably doesn't even know where the Mediterranean is.
Anyway, we started out by going to La Turbie, which was the site of the Roman monument that Lobo remembered not seeing. This time, though, all three of us failed to not see it, as it is quite large and we had paid to get in.
This is the Tropaeum Alpium, built in 6 BC to celebrate Caesar Augustus' subjugation of the people of the Alps. Starting about 1000 years later, people started using the ruins as a quarry to build the surrounding village. It was restored as much as possible over the last century or so by painstakingly matching nearby stones, like a giant 3D jigsaw puzzle.
There is also a nice view of the Mediterranean.
We got lunch in town, where Lobo insisted that we get some cheap sandwiches and sit on a bench overlooking the sea…right next to a nice cafe that had lunch specials.
Next we went to Èze, which is a picturesque twisty medieval village with a castle on top. The town has been conquered repeatedly throughout history, and we had no trouble conquering it today, after we paid six euros to go to the top.
There was a nice view of the Mediterranean.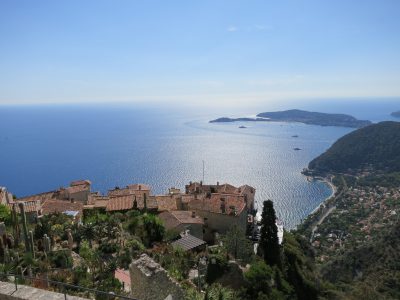 We took a somewhat indirect route to Roquebrune castle, due to certain people's inexpert handling of mapping devices, but we got there eventually, and were thus able to climb another steep medieval place. This castle was built on high ground, as castles generally are, but as there is even higher ground behind it, it was not really all that defensible, and was eventually abandoned.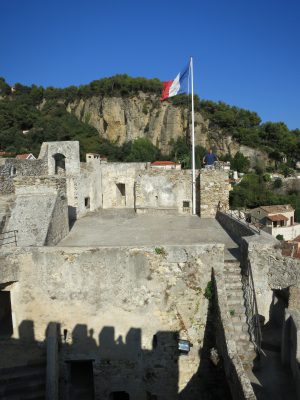 It does have a nice view of the Mediterranean, though.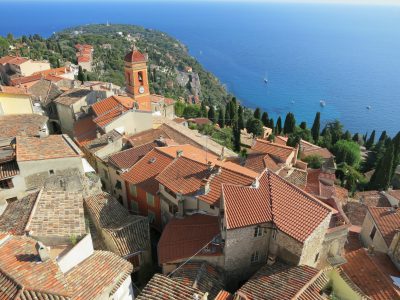 See also: Ramblin' Through La Turbie, Eze, Roquebrune and Seborga Day 3: La Turbie, Eze, and Roquebrune.
UPDATE: Al does in fact know where the Mediterranean is. He says: "You go to Alviso, face north, and make a hard right." This is correct, and I suppose unsurprising given Al's longstanding obsession with Alviso.