After a leisurely breakfast, we went to Monaco with no clear plan in mind except for Lobo to get a Starbucks mug and then wander around. We parked in a car park (garage) right next to the Starbucks, which I think was the same one I parked in 16 years ago. You basically spiral down into the center of the Earth or until you find a parking space, whichever comes first.
But we found a space, and we got mugs, and we wandered, starting with the yacht harbor.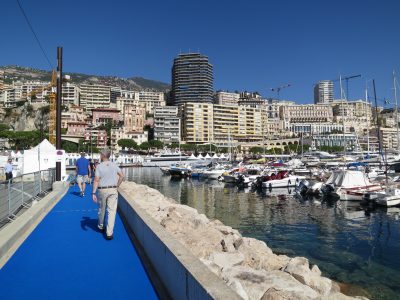 We found some signs for the yacht show that had ended a couple of days earlier. They were just throwing them out!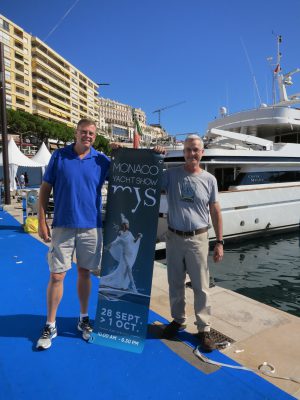 We saw yachts…
…and a cathedral…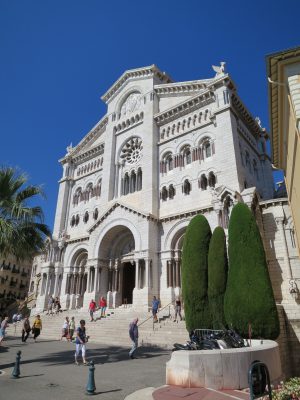 …and a tiny police car…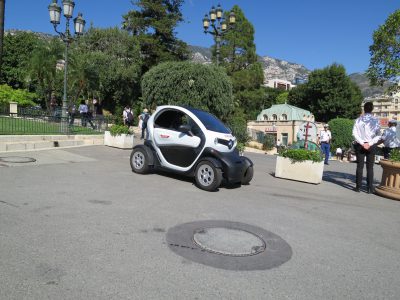 …and the palace, where we weren't allowed to take pictures.
We were too early to get into the casino, and Lobo probably wasn't dressed well enough anyway. And there was supposed to be a tourist information office that would stamp your passport with a Monaco stamp, but it seems to be gone. Still, Monaco is good place to wander around on a sunny day.
We left Monaco at around 4:00 and drove to Èze, which I remembered from the 2000 trip. Lobo had gone there a few years earlier, except that he didn't actually go up to the castle ruin at the top. His wife and daughter went, but Lobo just sat in the car because he thought that his wife was just going to the restroom, and that his daughter had gone to look for her. He sat there for two hours until they came back and told him all about it. Seriously.
Anyway, he wanted to go, so we drove up there…and then he said he didn't think that was really the place. Maybe it was La Turbie. So we drove there. La Turbie doesn't have a castle, but it has a Roman ruin. The park with the ruin was supposed to close at 5:00, but it was 4:20 and it was already closed. I still don't know if that was the right place.
But it was still a good day, and we drove back to the house and watched Birdemic: Shock and Terror, which made it even better.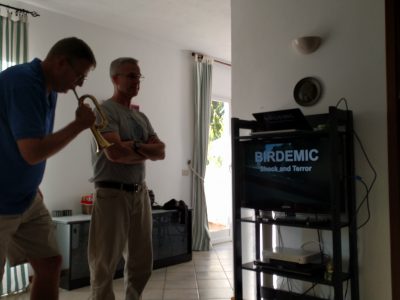 UPDATE: Of the many noteworthy aspects of Birdemic: Shock and Terror, the song "Just Hanging Out" is a standout.
Charles walks in with the beer and his baby says HEY DEAR!
Can you go and talk to Melvin, he's making out at the pier
So little Susan hears the music then she starts to groovin'
And all the fellas jump up to see, how she is movin'
See also: Monaco and Seborga Mash Day 2 – Monaco.