The Mash (and Mash it clearly was, despite some peevish braying from the less adventurous) has concluded, and the Mash attendees have gone their separate ways, better for the experience, except possibly for the experience of watching Dondi, which was even worse than expected.
Seborga is beautiful and charming and slightly odd, and almost exactly as I remembered, except that the weather was much nicer this time around. Lobo's choice of a house was perfect, even to the point of accidentally renting from someone I had met and talked to 16 years ago.
We rented the top two stories of the house in the center of this photo.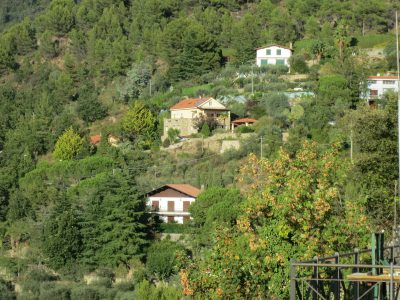 It has beautiful terraced grounds.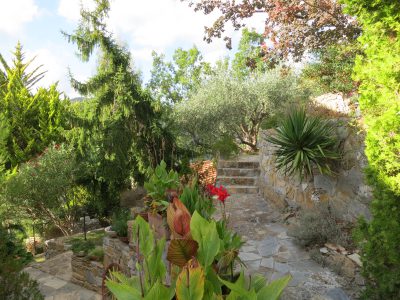 We parked the car at the upper corner of the steep driveway. (Note the Seborga flag.)
Further notes:
Motorcycles and motor scooters in both Italy and France pass on both sides wherever and whenever they feel like it. Almost nothing they do would be legal in the US, but here you can just ignore them and it seems to work out.
The toll roads are pretty darned expensive.
Limoncino is tasty, but very strong. I was going to get a bottle, but thought better of it. I'd probably drink the whole bottle and have to be treated for alcohol poisoning. Besides, who wants to carry a glass bottle through the Alps?
Nice is nicer than Cannes.
The most useful languages to know in this area are French, Italian, and Donkey.
That song from Birdemic is always funny, and it always will be.
See also: The R4TS4&T2TWH Mash in Review.