I awoke to clouds. Not a good sign. I took a shower and got dressed. Still cloudy. I checked the weather report. Supposedly it was sunny and would be all morning. Hmm.
I got a croissant and some "expresso" (as the menu said) and walked over to the tourist information office, but it was Sunday and they were closed.
Well, okay. My original plan was to go to the top of Aiguille du Midi, then descend to Plan de l'Aiguille and hike to the Mer de Glace glacier, spend some time there and take the train down. Then I decided I didn't want to do a 2.5-hour hike in my Nike Frees, so I would do the mountain and the glacier separately with a multipass. If the mountain was clouded over, I would just do the glacier.
I walked to the cable car station to find out if it was going to clear up and decide which ticket to buy. I asked the lady at the ticket counter if it was going to clear up. This was obviously a very stupid question as it was clearly sunny right now, as anyone could see by looking at the webcam. Oh. So I asked for a multipass so I could take the train to the glacier. But the glacier is closed, she said. It's closed? Stupid question #2. It's closed for the season, as everyone knows. Thus my options all converged on a single point, and I bought a ticket to the summit of Aiguille du Midi.
Which was spectacular. I didn't see anyone doing ballet on the side of the mountain, but the view was amazing. 12,600 feet is the highest I've been on the ground. The best part of Aiguille du Midi is that you actually take an elevator to the summit. I think that mountains like Everest and Kilimanjaro would be much improved by such an approach.
There were views.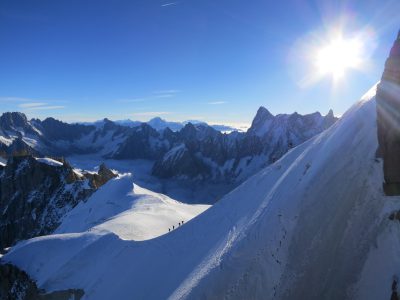 And more views.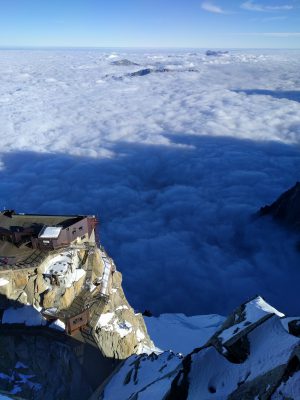 And a clear platform that was smaller than I thought it would be.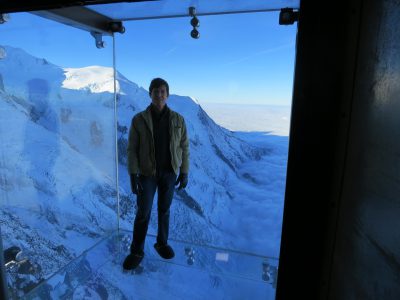 The view from the restroom was just as good, and I could stand in front of the heater.
I met a Filipino couple and we exchanged picture-taking services. (That's Mont Blanc behind me.)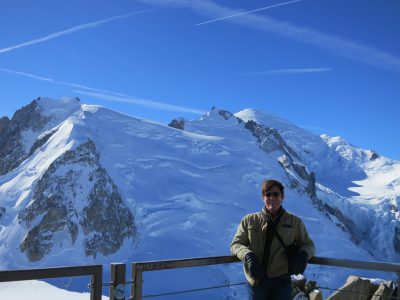 The last platform I visited was up a long flight of stairs. I took the stairs two at a time, like I usually do. This was a bad idea at 12,000 feet. I had to stop about two-thirds of the way up and gasp for a while. When I got to the top, there was…a display on hypoxia. Clearly someone's idea of a joke.
While I was recovering, I read about what happens to your body at high altitudes. There was a little gizmo that you could stick your finger in to determine your heart rate and blood oxygen level. I had a little smiley face next to mine, so all was well.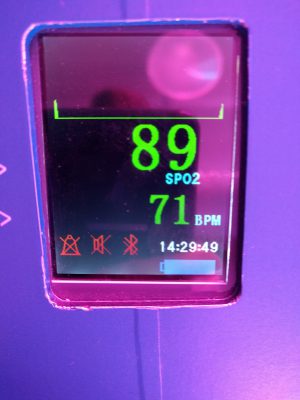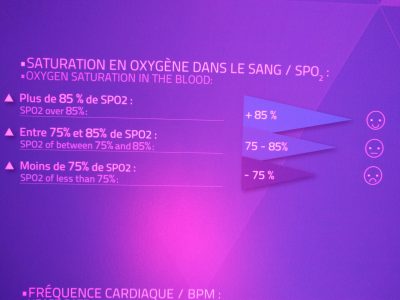 On the way down in the cable car, the people next to me pointed out a donkey on the side of the mountain below. I wasn't fast enough to get a photo, but I'm sure it was Al.
For the rest of the day I just walked around Chamonix talking pictures, buying shirts (nice ones), eating, etc. Dinner was tapas and Irish coffee at a British restaurant and bar overlooking the river Arve.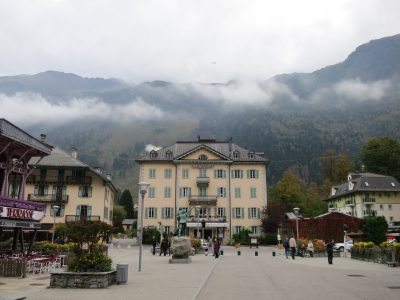 Tomorrow: Geneva and beyond.
See also: Chamonix and Mont Blanc.