I didn't go to Luzern. I hung around Bern until 11:00 to watch the clock. It didn't really do all that much, but it is pretty interesting to see a working mechanism from 1530.
Luzern would take several hours, and I didn't want to get to Zürich that late, so I took the train directly to Zürich and got there by 1:00.
I arrived at the Hauptbahnhof and set off confidently in the wrong direction. I knew I needed to cross the river, but I didn't know that there are two rivers. Fortunately, there was a Starbucks just on the other side of the Sihl, so I could map the hotel and see that I needed to cross the Limmat.
Of course, I should have been able to map it anywhere, not just at a Starbucks, but the flakiness of Google Fi will be the subject of another post.
The Hotel Arlette is small but nice, as advertised. After I checked in, I went back across the river and walked the length of Bahnhofstrasse, which for some reason makes me think of New York City in the 1920s.
Then I walked randomly through nearby alleys and back across the Limmat to Niederdorf, which seems like Zürich's equivalent of Paris' Latin Quarter.
I spent most of the afternoon wandering around on both sides of the river.
For dinner I got some currywurst at this place that has barrels for tables. I didn't notice it at the time, but it seems to be part of the strip club next door.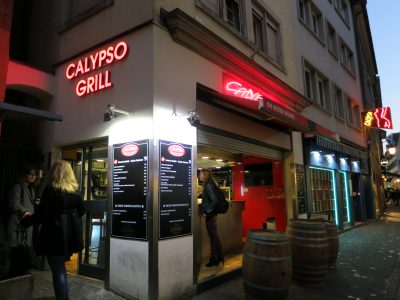 A little later I went up to Lindenhof and sat on the fourth-century Roman wall and took pictures of the city and river under the full moon. I couldn't quite hold the camera still enough…