Driving to Switzerland took a little over an hour. They didn't even stop me at the border. Leaving the rental car return, I had to walk along the street for about a quarter mile and through a parking lot to get to the airport, then through the airport to get to the train station.
I was planning to get lunch in downtown Geneva, but the train I got on happened to be going to Montreux, which is the end of the Golden Pass line, so I went all the way to Montreux. I had time before the next train to Interlaken, so I walked along the lake. I didn't see the Freddie Mercury statue, though.
The Golden Pass Classic is a set of refurbished older trains from 1914 and 1964. I mistakenly got on one of the first class cars, a fact the conductor discovered after I'd already settled in and there was no more room in second class. But I could pay to upgrade to first class. This required him to work through some elaborate calculation that involved talking to himself in both French and German, then concluding that I owed 12 francs. Thus for about $12.25 I have entered the ranks of the elite. Who knew that status could come so cheaply?
The train went through Gstaad, which, based entirely on The Return of the Pink Panther, I had always thought of as a ski town high up in the mountains. That's sort of true. It is a ski town, and it's generally in the Alps, but it's surrounded by farmland. As a town, it didn't look especially noteworthy, although I didn't actually get off the train to look at it.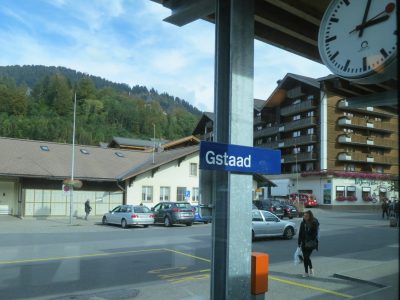 Interlaken is a nice-looking town in a beautiful setting, but my hotel reservation was waiting for me halfway up the mountain. From Interlaken Ost station, I took another train to Lauterbrunnen, a cable car to Grütschalp, and a narrow-gauge train along the edge of nothingness to Mürren.
There are goats in Mürren.
I'm staying at the creaky and atmospheric Hotel Blumental. Manuel from Fawlty Towers carried my bag to my room. Really, I swear it's him.
I had dinner at Stägerstübli, where the owner generously accommodated my attempts at German. Horse steaks are on the menu, but I went with the chicken mit pfeffersauce.