Onward to Seborga and points Europeward.
After fitful sleeping on the Delta/KLM flight to Amsterdam, I spent an hour having a leisurely lunch in the Amsterdam airport. There's a huge mall in the center with a fairly good food court and I could charge my phone while I waited. Then I went to check the gate for my next flight and learned that it was the very farthest gate away from where I was. The walking time was listed as 24 minutes. I had 20 minutes before they began boarding. So I sort of scamper-walked and made it in almost exactly 20 minutes. Then I got on the plane and immediately fell asleep. The flight attendant had to wake me up to tell me to fasten my seat belt. At least I wasn't drooling.
I landed in Nice and got through passport control in about five minutes, with no customs declarations needed at all. Really, is every country easier than the US? Anyway, I found the rental car desk with no trouble, and there was Lobo. He actually found the right place and got there on time without supervision.
We got the car and took a stupid selfie, which Lobo dubbed a stupie.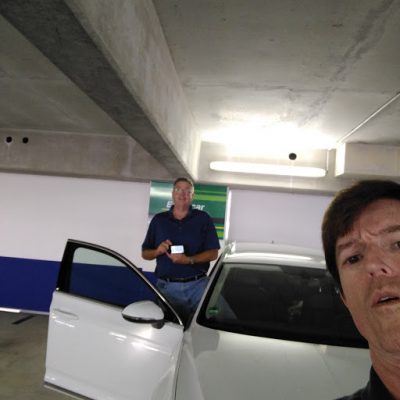 We drove to Seborga and found the place with no difficulty, thanks to Lobo's ancient and quirky GPS device, which I think was a cheaper one even back in whatever decade it came from. But it worked well enough and we got there and the place is spectacular. It's situated on a hill above Seborga.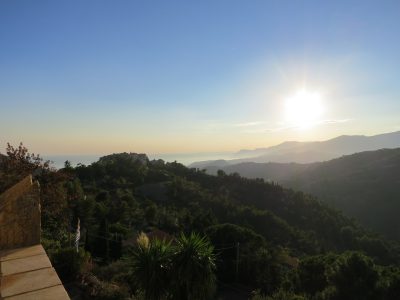 The landlady, Sabina, speaks perfect English, and I'm pretty sure she was the same person that my mom and I talked to in the Seborga restaurant in December of 2000.
See also: Arrival in Seborga!, Final First Day in Seborga Update, and Seborga Sunrise.