Two train stops south of Kyoto is Inari, home of the Fushimi-Inari shrine. Although I'm pretty much templed out at this point, this seemed worthwhile because A) I was on my way to Nara on that train line anyway and B) it sounded sort of weird.
Just across the street from the train station is a large torii gate and a path leading up to a fairly standard looking temple. Beyond that, however, are more torii gates. A lot more.
There are long tunnels of these snaking up the mountain. Every now and then there's a break in the tunnels, with a shrine or group of shrines off to one side. The shrines have piles of gates on them and next to them.
And there are extra gates around in case you need them.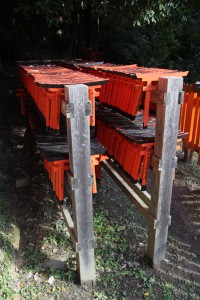 There are thousands of these things, and they fade over time, so they have to keep painting them continuously, like the Golden Gate Bridge.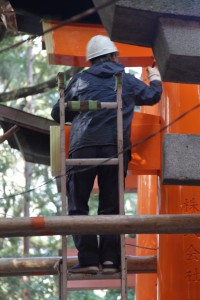 Many of the gates had a pair of dogs in front: one with a ball in its mouth and one with a stick. Here, boy!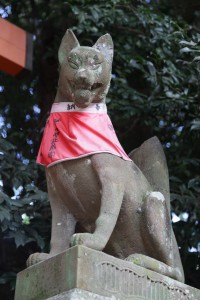 Most of them had those red bibs. This one had a hat.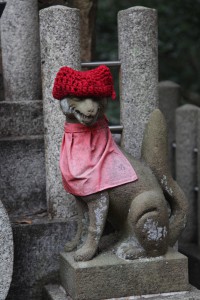 The whole thing looped to the top of the mountain and back down again. Mt. Inari is only about 700 feet high, making it more of a hill than a mountain, but there was a lot up and down. I was glad to get to the observation point with a view of Kyoto.
As I was standing there, a group of school kids came running up the steps.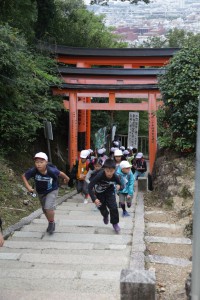 One girl of about eight decided to practice her English on me.
Girl: Hello!

Me: Hello. How are you?

Girl: Hello!
So that was as far as that went. I went back down the mountain, said hello to some British tourists and German backpackers*, and got on the train for Nara.
* Different ones.