I dropped $200 at Sprüngli getting omiyage for everyone. They'd sure better appreciate it. Granted, I ate some of it myself, but still…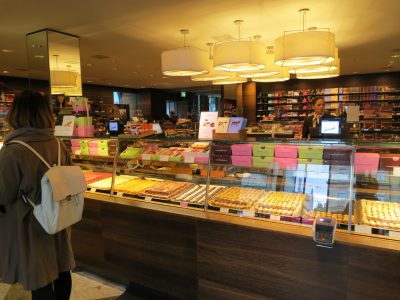 I mean, really, I had to. How often do you have the chance to walk down Bahnhofstrasse in the rain, eating macaroons? Not often, I'd wager.
Then a quick dinner of Döner im Teller while watching Turkish music videos and over to the Andorra bar for local Zurich beer. Andorra plays Frank Sinatra, Elton John and Kiki Dee, and what sounds like Rod Stewart singing a CCR song. Wait…now they're playing nuevo flamenco. It also uses a propeller for a ceiling fan.
I asked the bartender if she was from Andorra. She said she was from "Espain," but had only been there for two weeks and didn't know why the bar was called Andorra.
Now back to the hotel to try to pack everything without crushing it.