Yesterday I went to Harajuku, which is a combination of a really crowded upscale shopping street (Omote-sando)…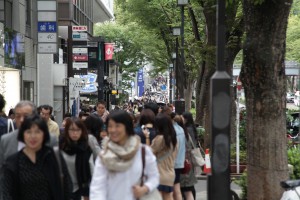 …and a really crowded shopping street for hip kids who want to have a party on Mt. Fuji or something (Takeshita-dori).
Many of these stores employ people to stand out front and greet you and tell you of all the marvels that they offer in their store. On Omote-sando, they're Japanese people who greet you in a low-key manner and don't bug you. On Takeshita-dori, they sound more like carnival barkers. And about half of them were African, for some reason. Their Japanese accents sounded really strange.
At Akihabara, they're all Japanese girls in French maid outfits. It doesn't seem to matter what they're trying to sell—DVDs, manga, food—they all dress that way.
These two were advertising (over a PA system) a maid cafe, wherein your waitress acts like your personal servant and treats you like you're lord of the castle. Which would personally drive me nuts, so I didn't go in. They would have had a problem with my camera anyway. They didn't even really seem to like me taking pictures from the street.
UPDATE: The maid costumes were indeed all for maid cafes. But the maids in question are not necessarily positioned next to their associated cafes, hence my confusion. Most of the people rounding up customers in Akihabara are dressed in the more conventional style that I like to think of as "marketing huckster," though there were also some dressed as anime characters.
This blog regrets the error.